QUICKBOOKS TRAINING
On Target's customized classes focus on the features that address YOUR needs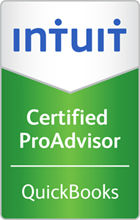 Your time is valuable. So why spend it on QuickBooks training that explains what you already know or features you'll never, ever use?
On Target customizes our training so you can learn how to use QuickBooks efficiently to address your business' specific needs. Training sessions can be one-on-one or for a group. Our experienced, hands-on trainers will teach you the ins-and-outs of its powerful features and how it can be a valuable tool in your planning and decision-making.
As Certified QuickBooks ProAdvisors, we can also help you set up your own QuickBooks system, get it up and running and provide ongoing QuickBooks support.
Training is available on:
QuickBooks Pro
QuickBooks Premier
QuickBooks Enterprise
Schedule your training session today by calling +1 (636) 677-3710.